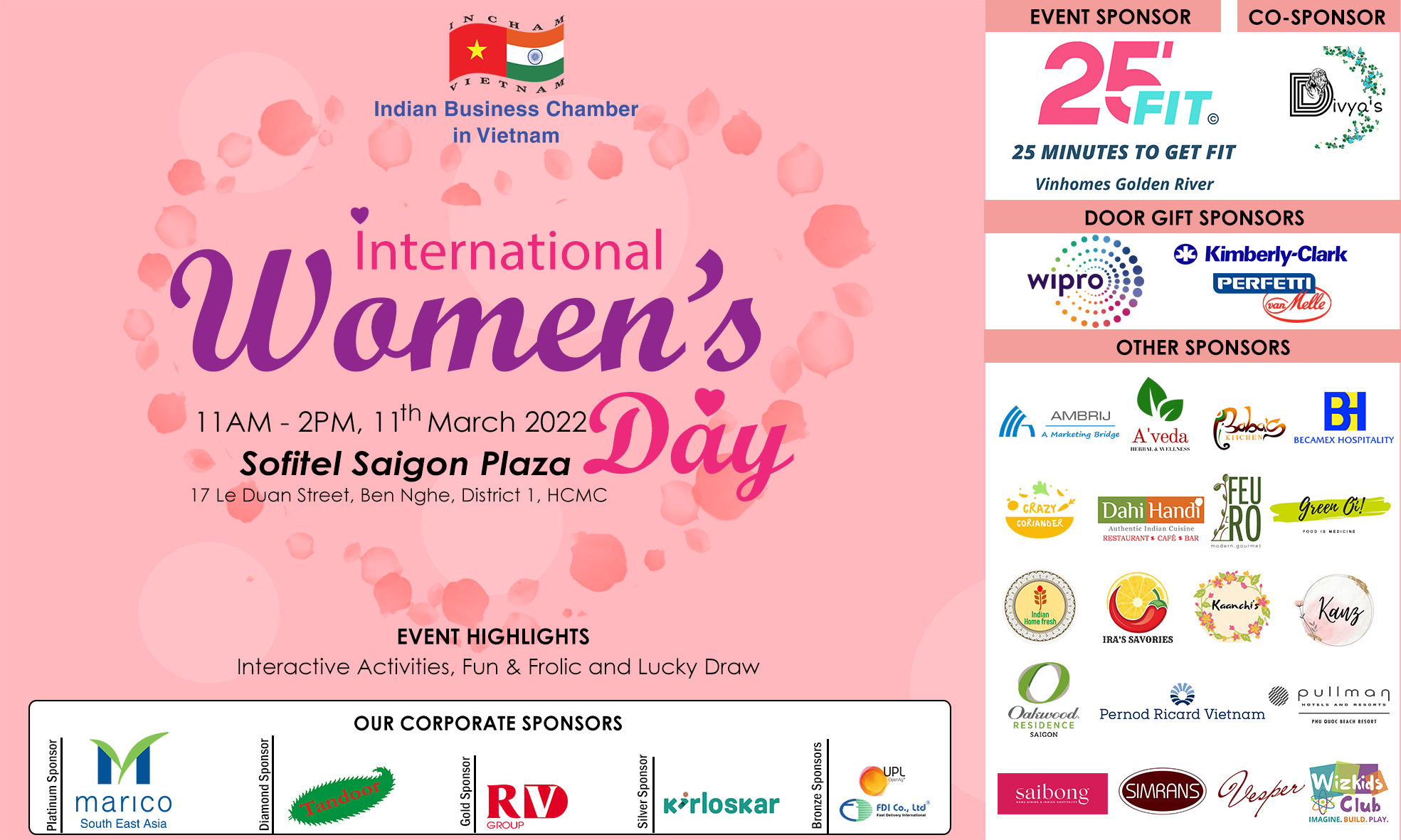 International Women's Day 2022
INCHAM cordially invites the vibrant Female Incham members/ Incham member's spouse, to celebrate "𝐈𝐧𝐭𝐞𝐫𝐧𝐚𝐭𝐢𝐨𝐧𝐚𝐥 𝐖𝐨𝐦𝐞𝐧'𝐬 𝐃𝐚𝐲" on March 11th, 2022 as per the following details.
Date: Friday, March 11th, 2022
Time: 11:00 AM – 14:00 PM
Venue: Sofitel Saigon Plaza –  17 Le Duan, Ben Nghe, District 1, HCMC.
𝗪𝗼𝗺𝗲𝗻 𝗼𝗻𝗹𝘆 𝗲𝘃𝗲𝗻𝘁 – Female Incham members/ Incham member's spouse only.
𝗗𝗿𝗲𝘀𝘀 𝗖𝗼𝗱𝗲: Best of your Red/White/ Pink outfit.
𝗙𝗿𝗲𝗲 𝗘𝗻𝘁𝗿𝘆 𝗳𝗼𝗿 𝗿𝗲𝗴𝗶𝘀𝘁𝗲𝗿𝗲𝗱 𝗴𝘂𝗲𝘀𝘁𝘀. Registration before 5th March 2022.
We apologize for the short notice as we recently got confirmation of the program from the CGI and subsequently finding an appropriate place for the get together given the COVID restrictions is a bit of a challenge. We will get back to you with further details shortly, meanwhile we request you to kindly confirm your participation as per the enclosed form by Wednesday 5 PM.
Registration Link: https://forms.gle/ubXqCibsokLT1ULb7 (Please ignore if already registered)
The event will have all women gathering to participate in activities and a Chief Guest of potential women's leadership to address followed by food & drinks.
Please confirm your attendance latest by 𝟱 𝗣𝗠, 𝗠𝗮𝗿𝗰𝗵 𝟱𝘁𝗵, 𝟮𝟬𝟮𝟮.