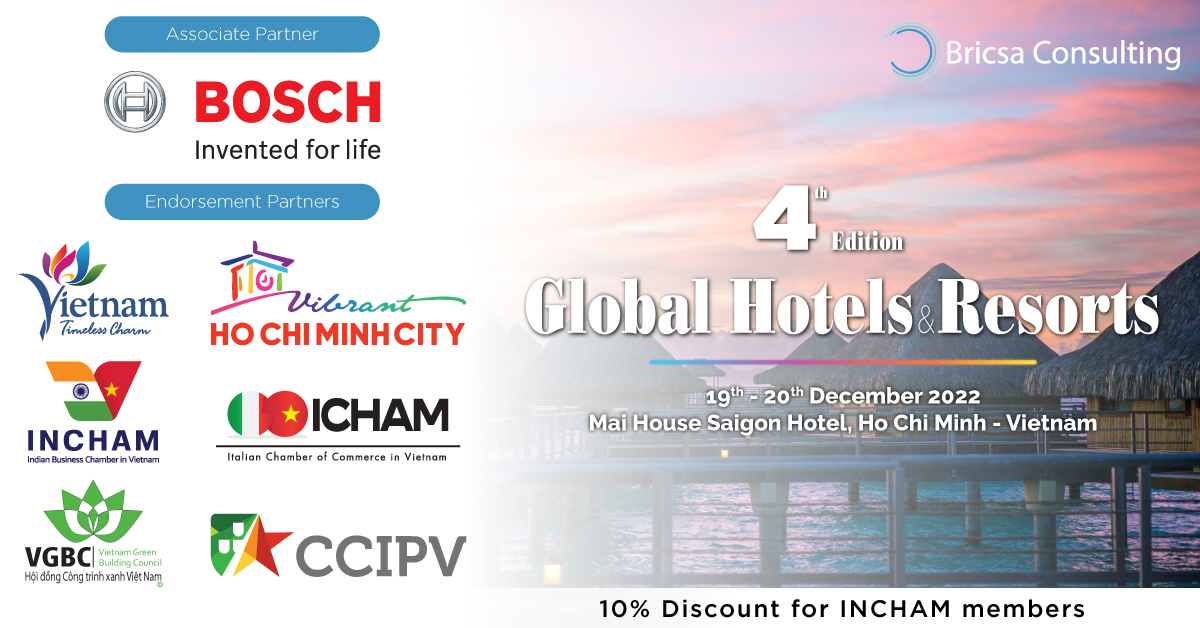 [Bricsa Consulting] – 4th Edition Global Hotels & Resorts
We would like to share with you about 4th Edition Global Hotels & Resorts, hosted by Bricsa Consulting.
Event details as follows:
Date: 19th & 20th December, 2022
Time: 8:00 AM – 17:00
Venue: Mai House Saigon Hotel,
157 Nam Ky Khoi Nghia St, Vo Thi Sau Wards, District 3, Ho Chi Minh City
Registration: Please contact Ms. Jigisha Vasa – Marketing Communications of Bricsa Consulting Pvt. Ltd. – Mobile: +91 9821 913641
Conference Highlights:
Exploring investment opportunities in the hospitality industry across the Asia Pacific region
Identifying the significant market trends in the competitive hospitality market
Understanding the needs of a diversifying market and discussing ways to tackle it
Reviewing policies and framework for land acquisitions and FDIs to promote inbound investment
Networking with the governing authorities, major hotel developers and solution providers
Please contact INCHAM Secretariat: incham@gmail.com or info@incham.vn – Hotline: 0911 418 132 – for any question.