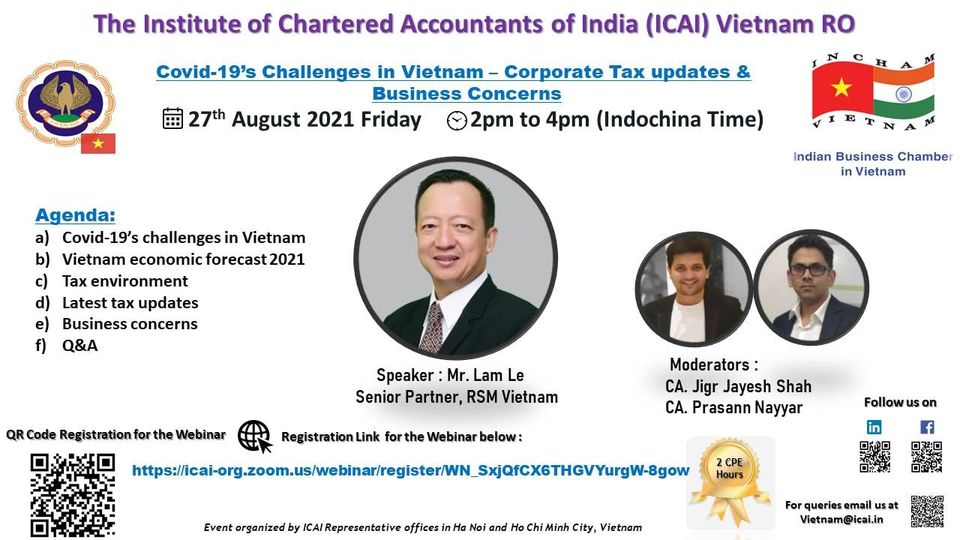 COVID-19's challenges in Vietnam: Corporate tax updates and business concerns
𝐖𝐞𝐛𝐢𝐧𝐚𝐫 𝐝𝐞𝐭𝐚𝐢𝐥𝐬:
ICAI Vietnam is organizing a webinar on "Covid-19's Challenges in Vietnam : Corporate Tax Updates and Business Concerns" 𝐨𝐧 𝟐𝟕𝐭𝐡 𝐀𝐮𝐠𝐮𝐬𝐭 𝟐𝟎𝟐𝟏 𝐚𝐭 𝟐 𝐏𝐌 𝐭𝐨 𝟒 𝐏𝐌 (𝐕𝐢𝐞𝐭𝐧𝐚𝐦 𝐓𝐢𝐦𝐞).
This webinar would definitely be very useful and informative for all the members.
Our speaker will be covering the following agenda:
Covid-19 Challenges in Vietnam
Vietnam Economic Forecast 2021
Tax Environment in Vietnam and Latest Tax updates
Business Concerns from Covid-19
Q&A Session
Our speaker is Mr. Lam Le, Senior Partner, RSM Vietnam. Mr. Lam has nearly 30 years of experience working with multinational and Vietnamese clients. He specializes in providing advice on Local Taxes, Transfer Pricing, M&A, other areas of compliance and issues relating to inbound investments.
𝐓𝐡𝐞 𝐬𝐞𝐬𝐬𝐢𝐨𝐧 𝐰𝐢𝐥𝐥 𝐛𝐞 𝐦𝐨𝐝𝐞𝐫𝐚𝐭𝐞𝐝 𝐛𝐲:
CA Jigr Jayesh Shah
CA Prasann Nayyar
𝑲𝒊𝒏𝒅𝒍𝒚 𝒓𝒆𝒈𝒊𝒔𝒕𝒆𝒓 𝒚𝒐𝒖𝒓 𝒊𝒏𝒕𝒆𝒓𝒆𝒔𝒕 𝒇𝒓𝒐𝒎 𝒕𝒉𝒆 𝒍𝒊𝒏𝒌 𝒃𝒆𝒍𝒐𝒘 𝒐𝒓 𝒇𝒐𝒍𝒍𝒐𝒘 𝒕𝒉𝒆 𝑸𝑹 𝒄𝒐𝒅𝒆 𝒈𝒊𝒗𝒆𝒏 𝒊𝒏 𝒕𝒉𝒆 𝒇𝒍𝒚𝒆𝒓:
https://icai-org.zoom.us/…/WN_SxjQfCX6THGVYurgW-8gow
If you need any support, kindly contact incham Secretariat at 0911 418 132 or info@incham.vn