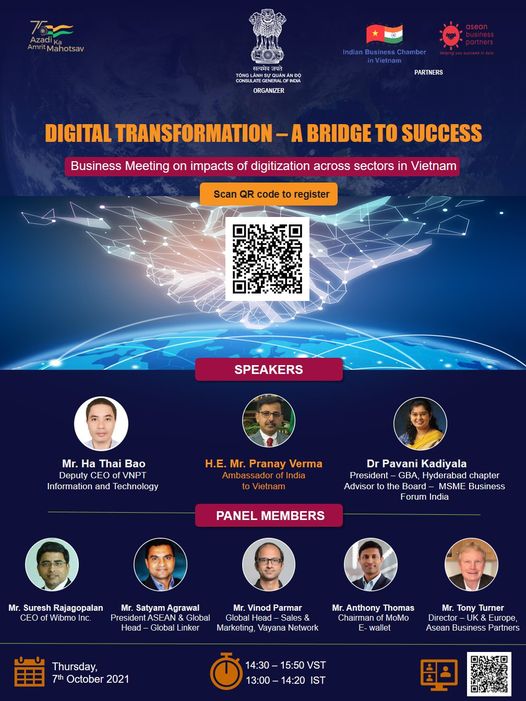 Digital Transformation – A Bridge To Success
𝗪𝗘𝗕𝗜𝗡𝗔𝗥: 𝗗𝗜𝗚𝗜𝗧𝗔𝗟 𝗧𝗥𝗔𝗡𝗦𝗙𝗢𝗥𝗠𝗔𝗧𝗜𝗢𝗡 – 𝗔 𝗕𝗥𝗜𝗗𝗚𝗘 𝗧𝗢 𝗦𝗨𝗖𝗖𝗘𝗦𝗦 – 𝗼𝗻 𝗢𝗰𝘁. 𝟳𝘁𝗵, 𝟮𝟬𝟮𝟭 @ 𝟭𝟰:𝟯𝟬
Digital transformation, now more than ever before, plays a vital role in helping different sectors adapt to COVID-19 challenges and global integration. Believing that technological cooperation is the sustainable way to stem the pandemic and pay road toward success, the Consulate General of India in Ho Chi Minh City, in collaboration with the Indian Business Chamber in Vietnam and Asean Business Partner, proudly invite you to join the virtual webinar:
DIGITAL TRANSFORMATION – A BRIDGE TO SUCCESS
Date: Thursday, October 07th, 2021
Time: 14:30 – 15:50 VST | 13:00 – 14:20 IST
Venue: Zoom platform
Language: English & Vietnamese (with cabin interpretation)
Registration link: https://us02web.zoom.us/…/reg…/WN_FdpF5EAtQpu7bbUJU76jug
Or https://forms.gle/7eURJgMHhRND8hATA
Kindly find attached Note Verbale | Tentative Agenda | Poster
The Consulate would provide an e-certificate of appreciation upon your request. Kindly sign in the webinar with the email you registered with us to enable issuance of the said certificate.
Should you have further queries, kindly contact Ms Trang Dang, Community Welfare Assistant, Consulate General of India in Ho Chi Minh City, at thaotrangdangdp@gmail.com | visa.hcm@mea.gov.in | +84 971.957.482.