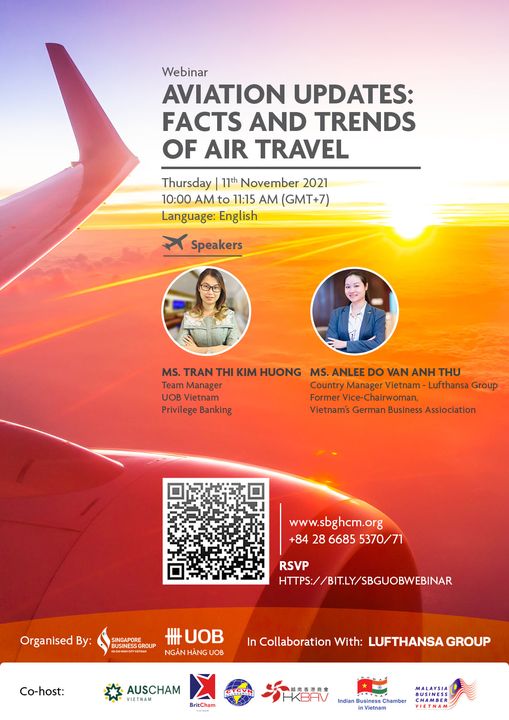 SBG Webinar: Aviation Updates – Facts and trends of air travel overview
[𝗖𝗢-𝗛𝗢𝗦𝗧] 𝗦𝗕𝗚 𝗪𝗘𝗕𝗜𝗡𝗔𝗥: 𝗔𝗩𝗜𝗔𝗧𝗜𝗢𝗡 𝗨𝗣𝗗𝗔𝗧𝗘𝗦: 𝗙𝗔𝗖𝗧𝗦 𝗔𝗡𝗗 𝗧𝗥𝗘𝗡𝗗𝗦 𝗢𝗙 𝗔𝗜𝗥 𝗧𝗥𝗔𝗩𝗘𝗟 𝗢𝗩𝗘𝗥𝗩𝗜𝗘𝗪.
We are pleased to invite you to the following webinar which is organized by SBG and supported by incham.
Webinar details are as follows:
TOPIC: AVIATION UPDATES: FACTS AND TRENDS OF AIR TRAVEL
OVERVIEW
As more countries are working together to open the borders, and the sky will be once again our free territory, SBG and UOB Vietnam would like to invite you to the sharing of the air travel's facts and trends.
Hear from an industry expert, and receive the latest updates on the aviation industry and what you should prepare for your next flight.
Date: Thursday, 11 November 2021
Time: 10:00 AM to 11:15 AM (GMT+7)
Language: English
SPEAKERS:
_ Ms. Anlee Do Van Anh Thu
Country Manager Vietnam, Lufthansa Group
Former Vice-Chairwoman, Vietnam's German Business Association
_ Ms. Tran Thi Kim Huong
Senior Relationship Manager
UOB Vietnam, Privilege Banking
Registration link: https://bit.ly/sbguobwebinar