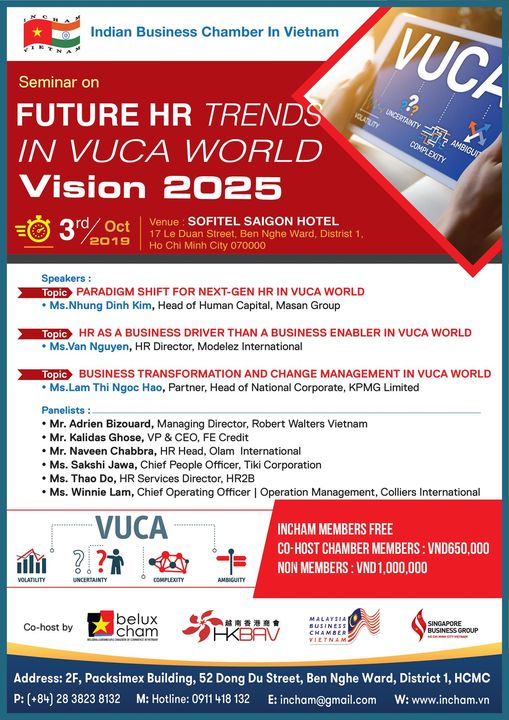 HR seminar on "Future of HR Trends in VUCA World- Vision 2025"
The event would be Co Hosted by Belgian & Luxembourg Business Chamber, Hong Kong Business Group, Malaysian Business Chamber, and Singapore Business Group.
The event will be held on 3rd Oct 2019 at Hotel Sofitel Saigon Plaza, Ho Chi Minh City from 8.00 am to 12.30 pm(Followed by Lunch)
The topics of the seminar along with other co-speakers and co-panellists are attached below. Our goal is to bring people from the local community together to give them inspiration about what our non-profit organisation is hoping to achieve with our program for enlightening HR fraternity about Globalisation and its requirement in VUCA World. We expect a participation of more than 100 who would be from HR and Business from international community,Multinational companies,local companies and couple of Universities as well.
The GenY who would be the future workforce is going to enlightened by the vision our speakers and panellists have for the future-2025 We want to provoke discussion about the program and raise awareness, which we hope will also benefit many Businesses investing in HR.
This seminar will be run by experts in a relaxed, interactive environment where people can also interact with other business owners, managers, and leaders.