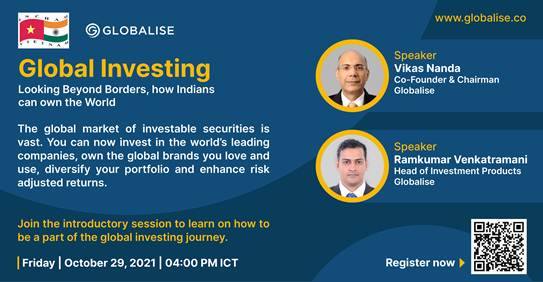 [INCHAM] – Global Investing – Look beyond borders, how Indians can own the world
We would like to invite you to join yet another very informative & valuable webinar which is organized by incham in collaboration with our associate members company – Globalise.
𝗧𝗼𝗽𝗶𝗰: 𝗚𝗹𝗼𝗯𝗮𝗹 𝗜𝗻𝘃𝗲𝘀𝘁𝗶𝗻𝗴: 𝗟𝗼𝗼𝗸 𝗯𝗲𝘆𝗼𝗻𝗱 𝗯𝗼𝗿𝗱𝗲𝗿𝘀, 𝗵𝗼𝘄 𝗜𝗻𝗱𝗶𝗮𝗻𝘀 𝗰𝗮𝗻 𝗼𝘄𝗻 𝘁𝗵𝗲 𝘄𝗼𝗿𝗹𝗱.
𝗗𝗮𝘁𝗲 𝗮𝗻𝗱 𝗧𝗶𝗺𝗲: 𝗙𝗿𝗶𝗱𝗮𝘆, 𝟮𝟵𝘁𝗵 𝗢𝗰𝘁𝗼𝗯𝗲𝗿 𝟮𝟬𝟮𝟭 𝗮𝘁 𝟬𝟰:𝟬𝟬 𝗣𝗠 𝗜𝗖𝗧
𝗥𝗲𝗴𝗶𝘀𝘁𝗲𝗿 𝗛𝗲𝗿𝗲: 𝗵𝘁𝘁𝗽𝘀://𝗯𝗶𝘁.𝗹𝘆/𝟮𝗭𝗻𝗷𝗩𝗸𝗘
The global market of investable securities is vast. You can now invest in the world's leading companies, own the global brands you love and use, diversify your portfolio and enhance risk-adjusted returns.
Join the introductory session to learn how to be a part of the global investing journey. The session will cover the advantages of diversifying into international markets, the structure of the US markets, and the latest macro-economic forces that are in operation, as well as the variety of instruments and products that are available for investors.
Agenda:
Introduction to Globalise
Why invest in a global portfolio?
US Markets – Breadth and depth, Markets update
Macro trends
Q&A
Speakers:
Mr. Vikas Nanda – Co-Founder and Chairman, Globalise
Mr. Ramkumar Venkatramani – Head of Investment Products, Globalise