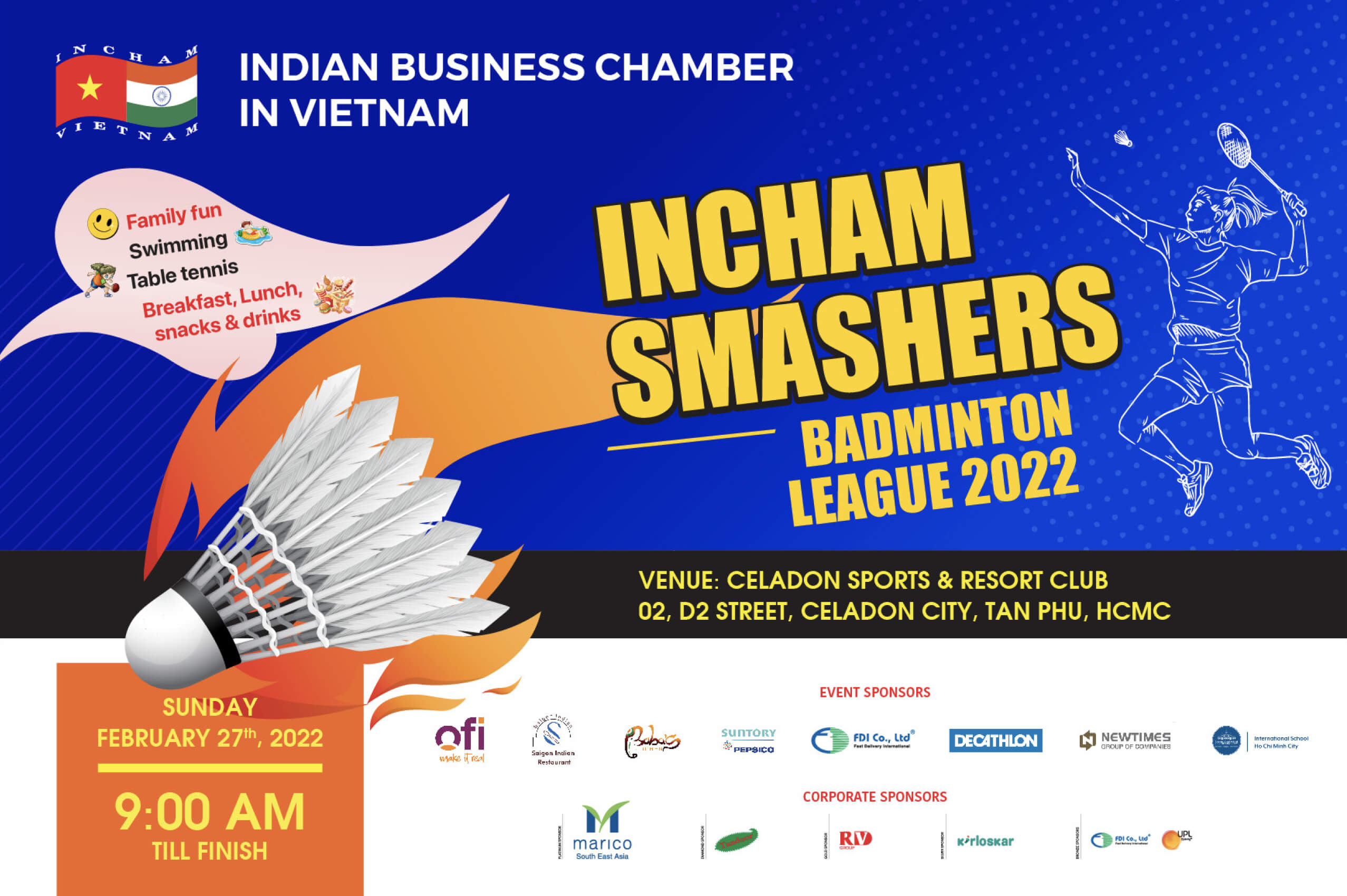 INCHAM SMASHERS – Badminton League 2022 in HCMC
INCHAM SMASHERS – Badminton League 2022 in HCMC
Greetings from INCHAM & Wishing you a Very Happy New Year of Tiger !
As part of our yearly sports itinerary, we are excited to share announcement for organizing :
INCHAM SMASHERS – Badminton League 2022 in HCMC for our vibrant Indian community & INCHAM members on
Sunday, February 27th, 2022 since covid restrictions have been eased now in HCMC & its time to connect together .
The venue for this tournament is really amazing & we are sure participants & the families are going to enjoy this place
CELEDON SPORTS & RESORT CLUB
Pls click: https://celadonsrc.com.vn
They have one of the best Badminton courts with great facilities in HCMC .
Families can also use the swimming pool & table tennis in this resort & we will be serving Breakfast , Lunch & tea snacks for this Event outing .
We extend our heartfelt thanks to our Event Sponsors for "INCHAM SMASHERS" – Badminton League 2022 for their great support .After Lunar New Year Holidays, it's time to get together with enthusiasm & we encourage participation of Indian families for this thrilling Incham Badminton tourney for all the age groups as stated below;
Men's & Women's, doubles & Mixed doubles
Children's single:
5 – 8 years age group
9 – 12 years age group
13- 16 years age group
Venue:
Celadon Sports & Resort Club
02 Đường D2, Celadon City, Tân Phú, Thành phố Hồ Chí Minh
(BEST BADMINTON COURT IN HCMC)
Date: Sunday, February 27th, 2022
Time: From 9:00 AM exactly – Till Finish.
Entry fee:
Members: VND 200,000
Member Child: VND 100,000
Non – Member: VND 400,000
Non – Member Child: VND 200,000
( Nominal Entry fee for swimming pool to be paid directly to resort)
Are you as excited as we are ?
Gather your friends,families & start registering ☺
We request our community to extend their support to make this tournament a grand success.All the members & Participants will be required to confirm well in advance to make proper arrangements by filling the link provided herewith latest by Tuesday, February 15th, 2022.
Registration link: https://forms.gle/U5pGRp6nQboCCeycA
If you need any supports, kindly contact INCHAM Secretariat at 0911 418 132 or incham@gmail.com
Thanks and regards,
Rahul Varma (Mr.)
INCHAM BOG – Sports and Culture