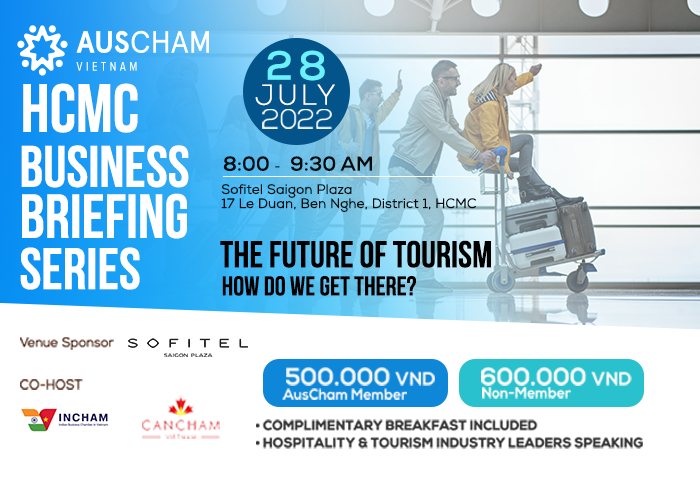 [AUSCHAM EVENT] – JULY BUSINESS BRIEFING SERIES
Auscham's July Business Briefing our panel of industry experts will discuss the state of the travel industry, factors causing ongoing anxiety around travel, how the industry can rebound and what rewards lay ahead for operators and tourists who actively participating in recovery into the future.
Speakers:
Moderator Nuno Ribeiro – Senior Lecturer Hospitality & Tourism RMIT Vietnam
Panelists Linh Le – Luxperia
Wendy Vu – Qatar Airlines
Linh Truong – Terraverda Travel & Events
Matt Cowen – The Bureau Asia.
Event details as follows:
Date: Thursday, July 28th, 2022
Time: 8:00 AM – 9:30 AM
Venue: Sofitel Saigon Plaza
17 Le Duan, District 1, Ho Chi Minh City, Vietnam
Registration Link: https://auschamvn.glueup.com/event/july-business-briefing-series-57649/
Ticket: 
Member and Co-host Member: VND 500,000
Non-member: VND 600,000
(Complimentary breakfast included)
Please contact INCHAM Secretariats: incham@gmail.com or info@incham.vn – Hotline: 0911 418 132 – for any questions.