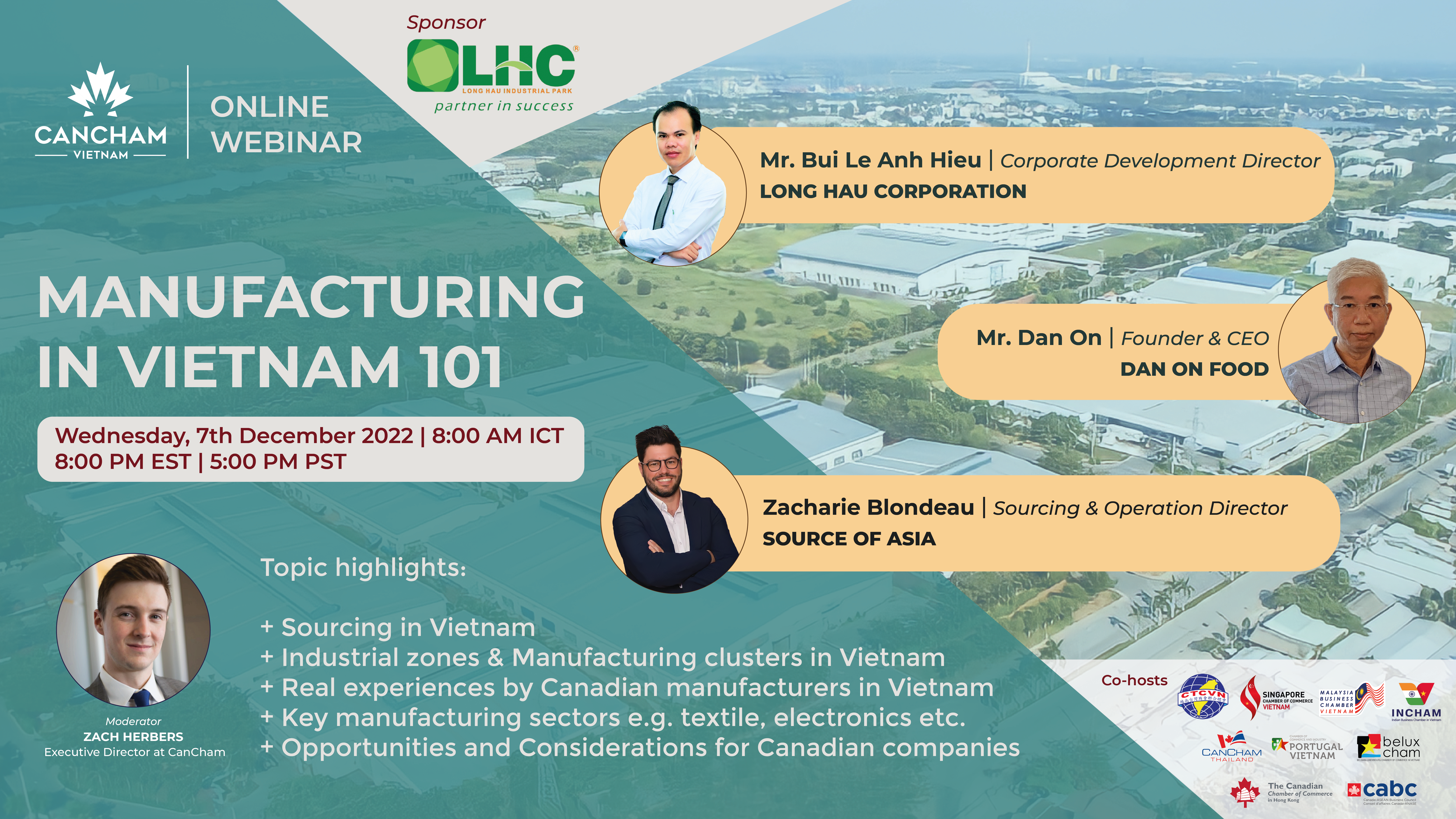 [CanCham Event] – Webinar Manufacturing in Vietnam 101
We would like to share with you about the CanCham Webinar Manufacturing in Vietnam 101, hosted by 𝑪𝒂𝒏𝒂𝒅𝒊𝒂𝒏 𝑪𝒉𝒂𝒎𝒃𝒆𝒓 𝒐𝒇 𝑪𝒐𝒎𝒎𝒆𝒓𝒄𝒆 𝑽𝒊𝒆𝒕𝒏𝒂𝒎 and co-hosted by INCHAM.
Event details as follows:
𝗗𝗮𝘁𝗲: Wednesday, December 7th 2022
𝗧𝗶𝗺𝗲: 8AM ICT | 8PM EST | 5PM PST
𝗥𝗲𝗴𝗶𝘀𝘁𝗲𝗿 𝗵𝗲𝗿𝗲: http://bit.ly/3i8E73s
𝗘𝘃𝗲𝗻𝘁 𝗱𝗲𝘁𝗮𝗶𝗹𝘀: http://bit.ly/3GRTPdx
The webinar is sponsored by 𝑳𝒐𝒏𝒈 𝑯𝒂𝒖 𝑮𝒓𝒐𝒖𝒑, with guest speakers from 𝑺𝒐𝒖𝒓𝒄𝒆 𝒐𝒇 𝑨𝒔𝒊𝒂 and 𝑫𝒂𝒏 𝑶𝒏 𝑭𝒐𝒐𝒅 – to learn about key information relating to the 𝗠𝗮𝗻𝘂𝗳𝗮𝗰𝘁𝘂𝗿𝗶𝗻𝗴 𝘀𝗲𝗰𝘁𝗼𝗿 𝗶𝗻 𝗩𝗶𝗲𝘁𝗻𝗮𝗺, including:
Industrial zones & Manufacturing clusters in the North, Center and South
Logistical advantages
Key manufacturing sectors, ranging from textiles to electronics, heavy equipment etc.
Sourcing considerations in Vietnam
Key challenges, opportunities and advantages for companies
𝐒𝐩𝐞𝐚𝐤𝐞𝐫𝐬:
𝗠𝗿. 𝗕𝘂𝗶 𝗟𝗲 𝗔𝗻𝗵 𝗛𝗶𝗲𝘂 – Corporate Development Director, 𝐋𝐨𝐧𝐠 𝐇𝐚𝐮 𝐂𝐨𝐫𝐩𝐨𝐫𝐚𝐭𝐢𝐨𝐧
𝗠𝗿. 𝗗𝗮𝗻 𝗢𝗻 – Founder & CEO, 𝐃𝐚𝐧 𝐎𝐧 𝐅𝐨𝐨𝐝
𝗠𝗿. 𝗭𝗮𝗰𝗵𝗮𝗿𝗶𝗲 𝗕𝗹𝗼𝗻𝗱𝗲𝗮𝘂 – Sourcing & Operation Director, 𝐒𝐨𝐮𝐫𝐜𝐞 𝐨𝐟 𝐀𝐬𝐢𝐚
Moderator:
Mr. Zach Herbers – Executive Director, Canadian Chamber of Commerce Vietnam
For further details and information, please see the attached flyer and contact Ms Nhung at nhung@canchamvietnam.org
Please contact INCHAM Secretariat: incham@gmail.com or info@incham.vn – Hotline: 0911 418 132 – for any questions.