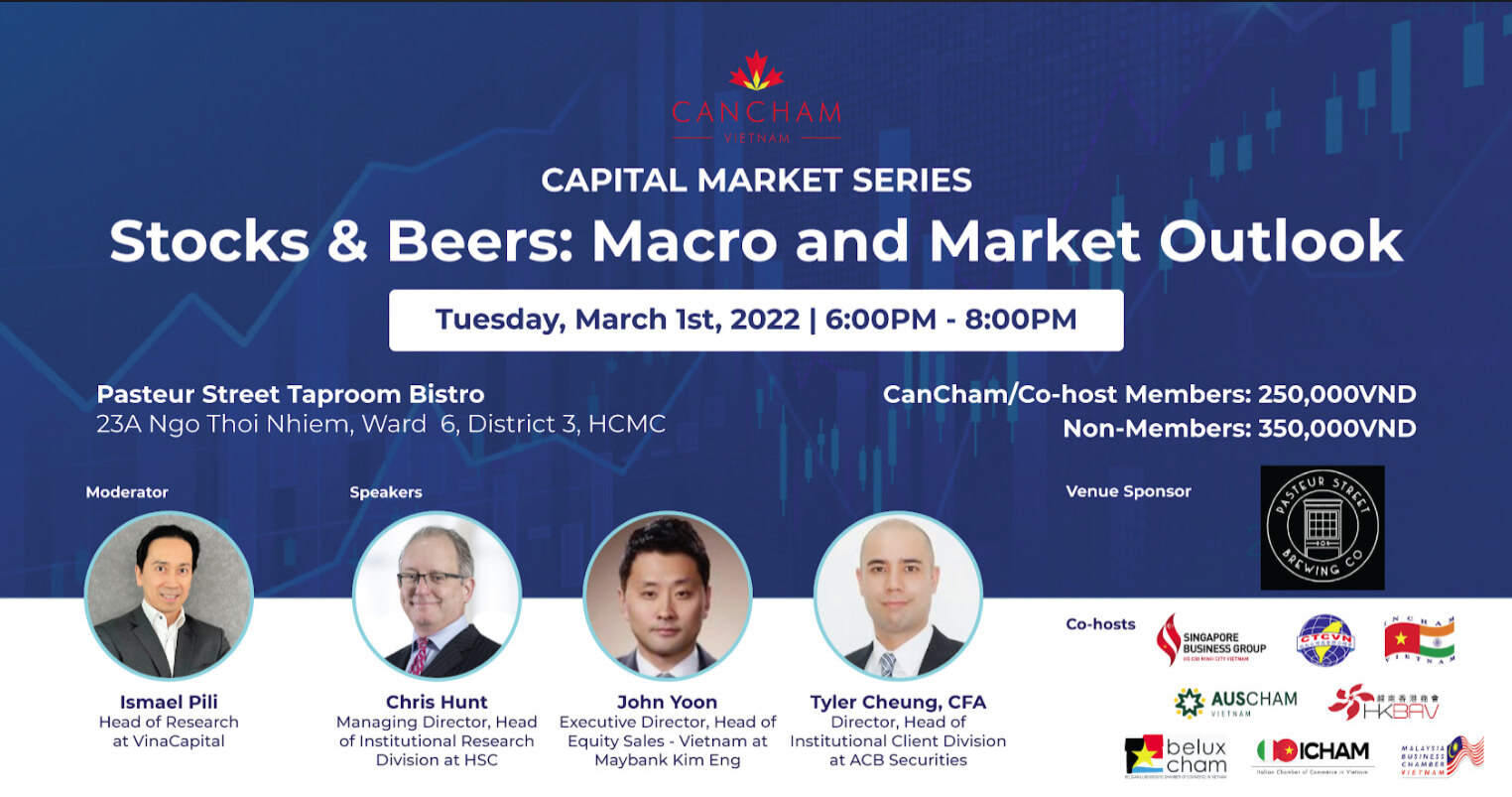 CanCham Capital Market Series – "Stocks and Beers: Macro and Market Outlook"
The event details are as follows
Topic: Stock and Beers: Macro and Market Outlook
𝗗𝗮𝘁𝗲/𝗧𝗶𝗺𝗲: March 01, 6:00 pm – 8:00 pm
𝗟𝗼𝗰𝗮𝘁𝗶𝗼𝗻: Pasteur Street Brewing Co.,
23A Ngo Thoi Nhiem, Ward 6, D.3, HCMC
Given high investor interest in the market, this month's event will have three leading experts from big financial institutions in Vietnam discussing the stock market outlook. Learn their insights, expectations, and predictions for Vietnam's stock market while enjoying a tasty beer or two.
This month's speakers are:
– 𝗠𝗿. 𝗖𝗵𝗿𝗶𝘀 𝗛𝘂𝗻𝘁, Managing Director, Head of Institutional Research Division at HSC
– 𝗠𝗿. 𝗧𝘆𝗹𝗲𝗿 𝗖𝗵𝗲𝘂𝗻𝗴, CFA, Director – Head of Institutional Client Division at ACB Securities
– 𝗠𝗿. 𝗝𝗼𝗵𝗻 𝗬𝗼𝗼𝗻, Executive Director, Head of Equity Sales – Vietnam at Maybank Kim Eng
– 𝗠𝗿. 𝗜𝘀𝗺𝗮𝗲𝗹 𝗣𝗶𝗹𝗶, Head of Research at VinaCapital Group, as our moderator
𝗧𝗶𝗰𝗸𝗲𝘁
– 𝗖𝗮𝗻𝗖𝗵𝗮𝗺 𝗺𝗲𝗺𝗯𝗲𝗿 & 𝗖𝗼-𝗵𝗼𝘀𝘁𝗲𝗱 𝗺𝗲𝗺𝗯𝗲𝗿: VND 250,000
– 𝗡𝗼𝗻-𝗺𝗲𝗺𝗯𝗲𝗿: VND 350,000
Including a full pour beer and free canapés.
– Venue: 𝗣𝗮𝘀𝘁𝗲𝘂𝗿 𝗦𝘁𝗿𝗲𝗲𝘁 𝗧𝗮𝗽𝗿𝗼𝗼𝗺 𝗕𝗶𝘀𝘁𝗿𝗼,
– Address: 23A Ngo Thoi Nhiem, Ward  6, District 3, HCMC
𝗧𝗼 𝗿𝗲𝗴𝗶𝘀𝘁𝗲𝗿, 𝗽𝗹𝗲𝗮𝘀𝗲 𝗰𝗼𝗻𝘁𝗮𝗰𝘁 𝗠𝘀 𝗡𝗵𝘂𝗻𝗴 at nhung@canchamvietnam.org.
If you need any support, kindly contact INCHAM Secretariat at info@incham.vn or incham@gmail.com or call to our hotline at 0911 418 132.