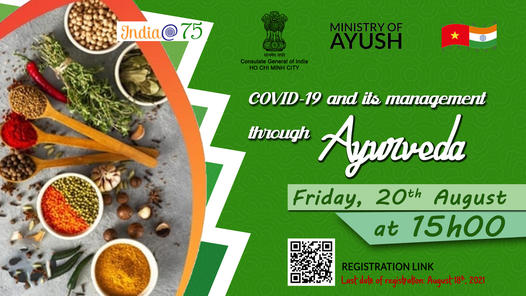 Covid-19 and Its Management Through Ayurveda
Date: August 20th, 2021
Time: 1500 VST
Registration link: https://forms.gle/a3DWBdYhDzQbQv2Q7
Webinar details:
The world and the humankind is passing through unprecedented times due to the Covid-19 pandemic. The new variations and mutations have made the mankind wonder about the possibility of a world free from the pandemic. In this scenario, it is imperative that we have a strong immune system to fight the disease. Ayurveda has always played a role of a preventive method which mainly focuses on daily and seasonal regimes or routines which will help us maintain our health.
With this focus, Consulate General of India in collaboration with Ministry of Ayush and Indian Business Chamber of Vietnam (incham) invites you to attend a Webinar on 'Covid-19 and It's Management Through Ayurveda' on August 20, 2021 at 1500 (Vietnam Standard Time) with the presence of following dignitaries:
H.E. Mr. Pranay Verma, Ambassador of India to Vietnam
Shri Pramod Kumar Pathak, Special Secretary, Ministry of Ayush
Dr. N. Srikanth, DG (I/c), Central Council for Research in Ayurveda, New Delhi
Dr. Kashinath, Associate Professor, National Institute of Ayurveda, Jaipur
Dr. Kartikey, Coordinator, International Chapter , Vishwa Ayurveda Parishad
Ms. Poonam Barthwal, Certified Ayurvedic and Panchkarma Practitioner in Ho Chi Minh City, Vietnam
The draft agenda of the webinar is attached herewith. You all are requested to kindly participate in the webinar and keep yourself safe in this pandemic. Interested participants are requested to kindly register at https://forms.gle/a3DWBdYhDzQbQv2Q7. Upon receipt of your registration, the joining link will be sent afterward.