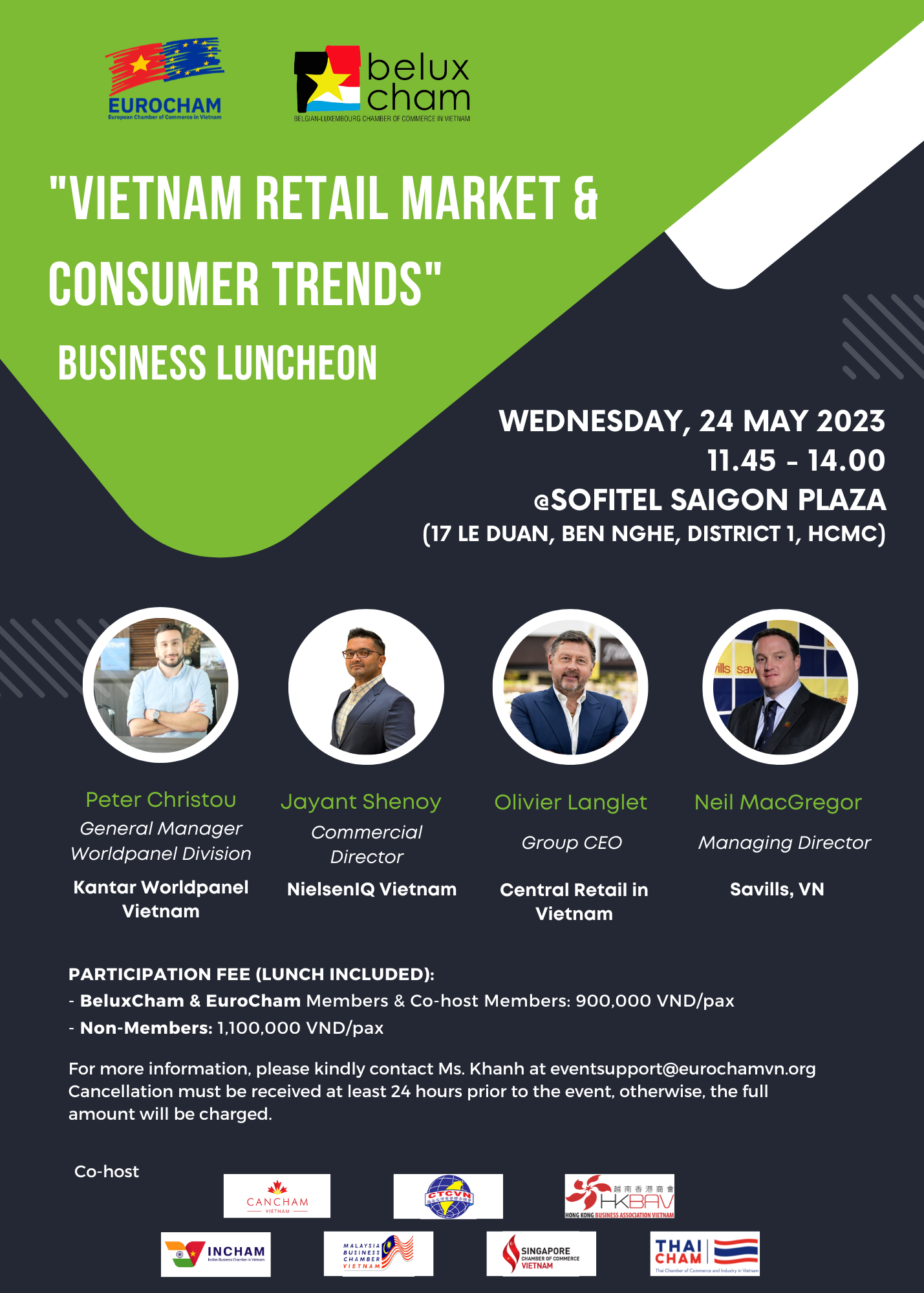 [EUROCHAM & BELUXCHAM EVENT] – Business Luncheon Seminar – Vietnam Retail Market & Consumer Trends
We would like to share with you about the Business Luncheon Seminar – Vietnam Retail Market & Consumer Trends, where we will be discussing the latest trends in the Vietnam Retail Market and Consumer Behavior, organized by EuroCham and Beluxcham, co-hosted by INCHAM.
Event details as follows:
Date: 24 May 2023
Time: 11:45 AM – 2:00 PM
Venue: Sofitel Saigon Plaza, 17 Le Duan, Ben Nghe Ward, D1, HCMC
Fee:
– EuroCham members and co-hosting chambers' members: 900,000VND/pax
– Non-members: 1,100,000VND/pax (lunch included)
Get your ticket here: https://eurochamvn.org/…/luncheon-seminar-vietnam…/…
The Vietnam Retail Market has been experiencing steady growth in recent years, driven by a growing middle class and increasing consumer spending. According to a report by the Vietnam Retailers Association, the retail market in Vietnam grew by 10.9% in 2020, despite the challenges posed by the COVID-19 pandemic.
Based on data from the General Statistics Office (GSO), Vietnam's retail sales of consumer goods and services reached VND 5,679 trillion (equivalent to US$242 billion) in 2022, representing a significant surge of 19.8% compared to the same period in the previous year.
The expert speakers will share their insights on the current state of the Vietnam Retail Market, including the latest trends and consumer behavior. Topics that will be covered include:
– Consumer Trends in Vietnam
– Retail Space Evolution in 2022/2023
– Types of Retail Space in Demand
– Expectations and Retail Format in Development for 2023 and Beyond
– Retail Formats that Seem to Attract Shoppers
– Evolution of Online Shopping Pre and Post-COVID
Tentative Agenda:
11.45 – 12.00: Registration
12.00 – 13.00: Presentation
13.00 – 13.30: Panel discussion
13.30 – 14.00: Q&A
14.00: Closing
Contact: Ms. Khanh at eventsupport@eurochamvn.org for more information
*Please note that cancellation must be made at least 24 hours before the event; otherwise, a full charge (900,000VND/pax or 1,100,000VND/pax) will be applied due to obligation with the venue.
Please contact INCHAM Secretariat: incham@gmail.com or info@incham.vn – Hotline: 0911 418 132 – for any questions.