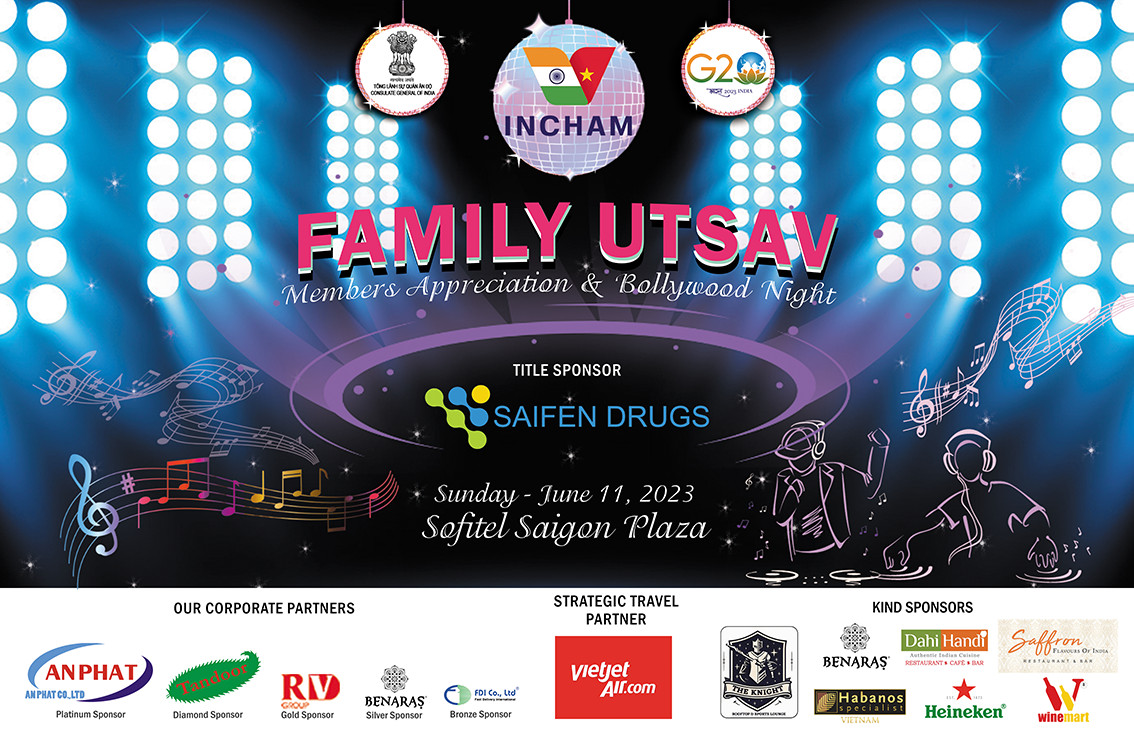 FAMILY UTSAV – MEMBER'S APPRECIATION & BOLLYWOOD NIGHT
𝗙𝗔𝗠𝗜𝗟𝗬 𝗨𝗧𝗦𝗔𝗩 – 𝗠𝗘𝗠𝗕𝗘𝗥'𝗦 𝗔𝗣𝗣𝗥𝗘𝗖𝗜𝗔𝗧𝗜𝗢𝗡 & 𝗕𝗢𝗟𝗟𝗬𝗪𝗢𝗢𝗗 𝗡𝗜𝗚𝗛𝗧 – 𝗘𝘅𝗰𝗹𝘂𝘀𝗶𝘃𝗲 𝗲𝘃𝗲𝗻𝘁 𝗳𝗼𝗿 𝗜𝗡𝗖𝗛𝗔𝗠 𝗠𝗲𝗺𝗯𝗲𝗿𝘀 𝗮𝗻𝗱 𝘁𝗵𝗲𝗶𝗿 𝗳𝗮𝗺𝗶𝗹𝘆!!
We are organizing the INCHAM FAMILY UTSAV 2023 on June 11, 2023 where we hope to receive about 200 guests from our members and their families.
Event details as follows:
Date: Sunday, June 11, 2023
Time: 6:00 PM onwards
Venue: Sofitel Saigon Plaza
This event aims to bring our members together for a day of fun, entertainment, and celebration. It promises to be an unforgettable gathering for everyone involved with free Indian Cuisine, drinks and DJ & Dancers from India.
The event information and registration link were sent in email for all INCHAM members.
Please check and register soon!!!