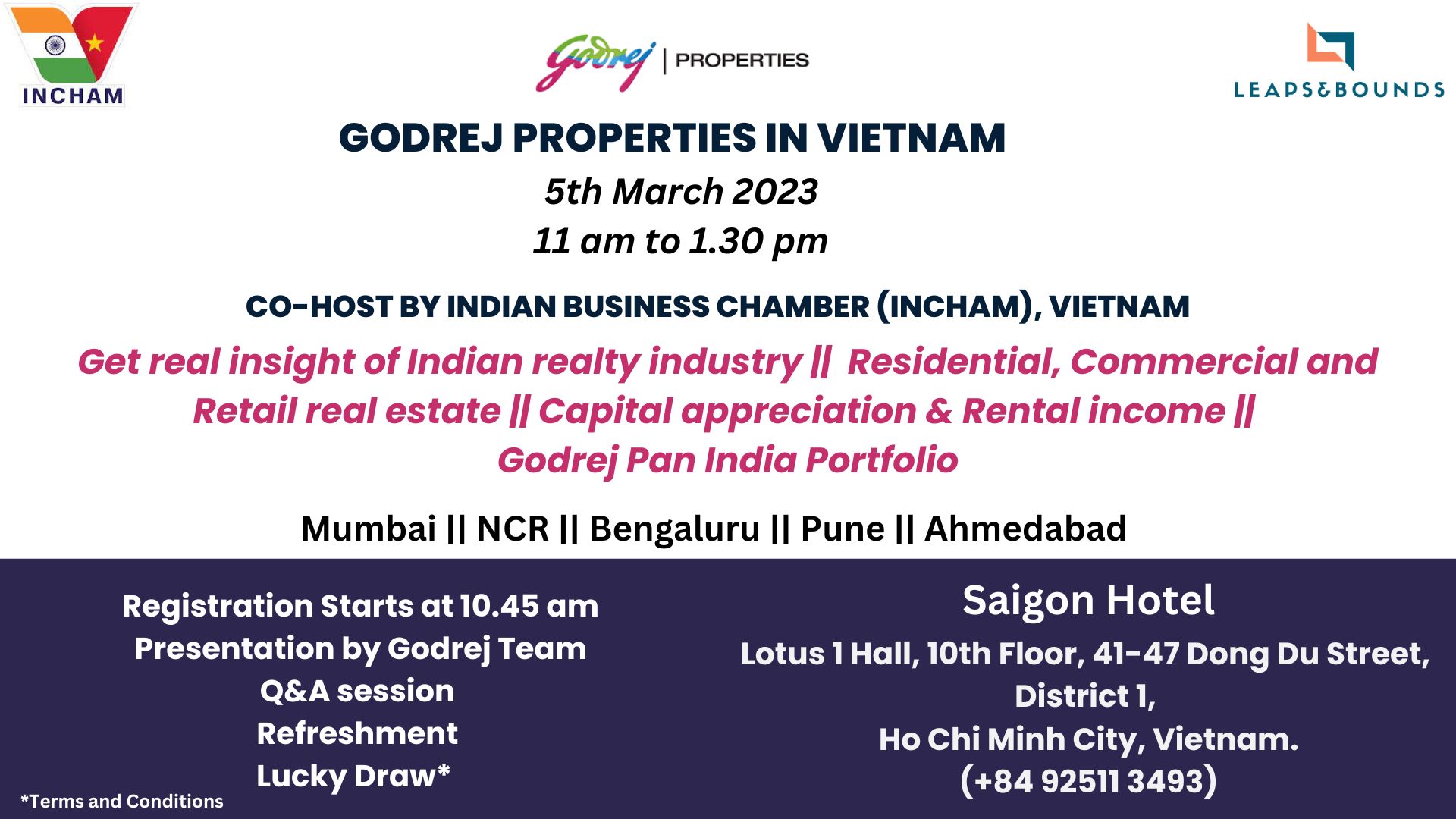 Godrej properties in Viet Nam on 5th March 2023
We would like to share with you that Godrej properties is conducting a session for Indians living in Vietnam where the Godrej Team from Singapore will give insight into the Indian realty market and how an investor can reap benefits from the success of Indian realty.
Event details as follows:
Date: 5th March 2023
Time: 11 am -1.30 pm (Registration starts at 10.45 am)
Venue: Lotus 1 Hall, 10th Floor, Saigon Hotel,
            41-47 Dong Du Street, District 1, Ho Chi Minh City, Vietnam
Registration Link: https://docs.google.com/forms/d/e/1FAIpQLSdDcmhREiQcIARqEj4BiuzNhvKePrf5m-bPRq8Ak4wqY_UO4A/viewform?usp=sf_link
Indian real estate is one of the fastest growing sectors and number two in terms of employment generation in India. Despite Covid disruption, the sector has been successfully attracting NRIs attention and offering them lucrative investment options.
Godrej properties along with INCHAM would like to invite Indians living in Vietnam on 5th March 2023 to meet team Godrej from Singapore. Godrej is a renowned Indian real estate developer and has presence in Mumbai, NCR, Bengaluru, Ahmedabad and Pune.
Please contact INCHAM Secretariat: incham@gmail.com or info@incham.vn – Hotline: 0911 418 132 – for any questions.