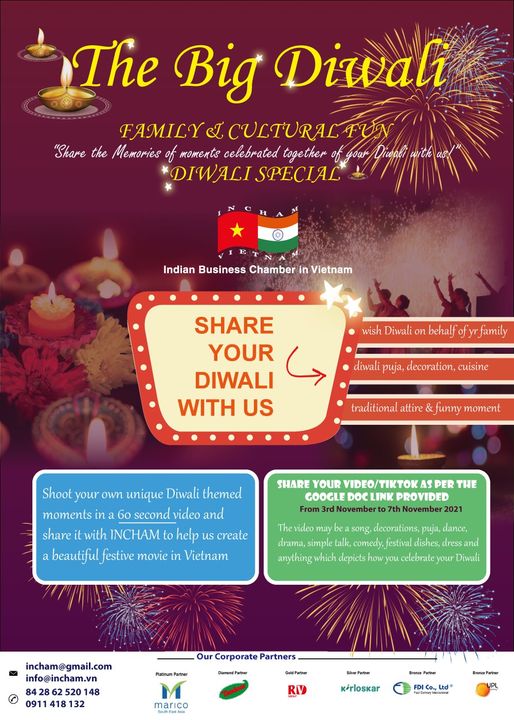 [INCHAM] – Share your Diwali with INCHAM – The Big Diwali 2021
𝗦𝗵𝗮𝗿𝗲 𝘆𝗼𝘂𝗿 𝗗𝗶𝘄𝗮𝗹𝗶 𝘄𝗶𝘁𝗵 𝗜𝗡𝗖𝗛𝗔𝗠 – 𝗧𝗵𝗲 𝗕𝗶𝗴 𝗗𝗶𝘄𝗮𝗹𝗶 𝟮𝟬𝟮𝟭
Diwali is just around the corner – Team incham wishes you & your family a happy & prosperous Diwali festival.
We believe that each one of us will have our own unique way of celebrating Diwali – Festival of lights.
We would like you all to share your unforgettable memories & moments celebrated together this Diwali to help us create a beautiful festive movie.
Please follow below 2 steps:
𝗦𝘁𝗲𝗽 𝟭: Shoot your own unique Diwali themed moments in a 60-second video.
𝗦𝘁𝗲𝗽 𝟮: Share your video in the link provided herewith:
https://forms.gle/4j7ixRhvwKEbQJLdA
𝗧𝗵𝗲𝗺𝗲𝘀: DIWALI ( Please review our poster for all details )
Video may be a song, decorations, puja, dance, drama, simple talk, comedy, festival dishes, dress OR ANYTHING WHICH DEPICTS HOW YOU CELEBRATE DIWALI!
Kindly share your video with us from Nov. 3rd to Nov. 7th, 2021 so that we can make a beautiful festive movie of Diwali in Vietnam to share with our community "𝗧͟𝗼͟𝗴͟𝗲͟𝘁͟𝗵͟𝗲͟𝗿͟ ͟𝘄͟𝗲͟ ͟𝗰͟𝗲͟𝗹͟𝗲͟𝗯͟𝗿͟𝗮͟𝘁͟𝗲͟ ͟𝗧͟𝗛͟𝗘͟ ͟𝗕͟𝗜͟𝗚͟ ͟𝗗͟𝗜͟𝗪͟𝗔͟𝗟͟𝗜͟"