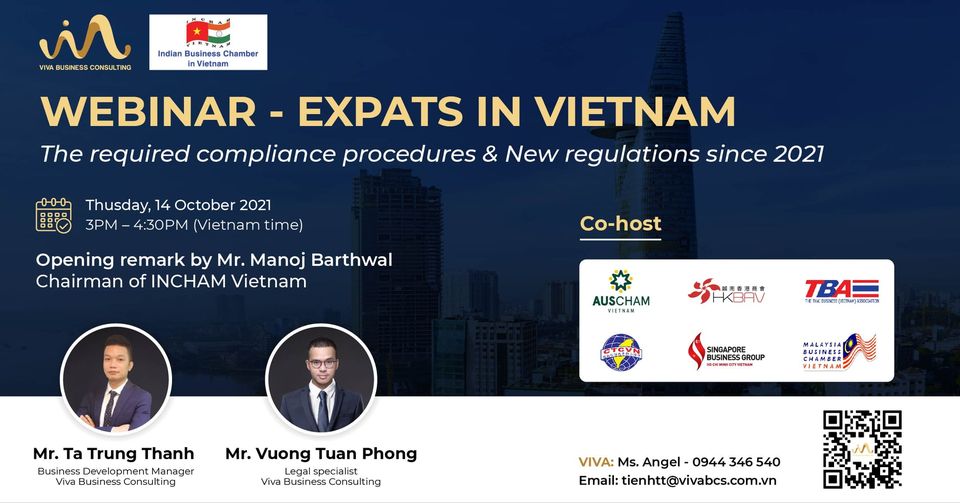 [INCHAM] Webinar "Exparts In Vietnam – The Required Compliance Procedures & New Regulations Since 2021"
𝐖𝐞𝐛𝐢𝐧𝐚𝐫: 𝐄𝐗𝐏𝐀𝐓𝐒 𝐈𝐍 𝐕𝐈𝐄𝐓𝐍𝐀𝐌 :𝐓𝐡𝐞 𝐫𝐞𝐪𝐮𝐢𝐫𝐞𝐝 𝐜𝐨𝐦𝐩𝐥𝐢𝐚𝐧𝐜𝐞 𝐩𝐫𝐨𝐜𝐞𝐝𝐮𝐫𝐞𝐬 & 𝐍𝐞𝐰 𝐫𝐞𝐠𝐮𝐥𝐚𝐭𝐢𝐨𝐧𝐬 𝐬𝐢𝐧𝐜𝐞 𝟐𝟎𝟐𝟏 – 𝐨𝐧 𝐎𝐜𝐭. 𝟏𝟒 – @𝟑:𝟎𝟎 𝐏𝐌.
—
We would like to invite you to join the following webinar which is organized by incham and VIVA Business Consulting.
Details of the webinar are as follows:
Webinar topic: EXPATS IN VIETNAM :The required compliance procedures & New regulations since 2021
Time: 3PM – 4:30PM
Date: October 14th, 2021
Platform: Zoom
Admission fee: FREE.
RSVP Link: https://bit.ly/2YoBOiT
With the introduction of Decree 152/2020/ND-CP, Vietnam is set to implement stricter conditions for work permits in Vietnam and adds paperwork requirements as an effort to pay considerably closer attention to the hiring and management of foreign employees. Since the decree took effect on February 15, 2021, the government has been accelerating its implementation in an effort to prevent illegal foreign migrant workers.
Joining this webinar and properly complying with the local mandatory procedures will help expats in Vietnam avoid most of violations, get more incentives, keep their good standing in optimal ways.
Agenda:
Opening remark by Mr. Manoj Barthwal – Chairman of incham Vietnam.
Required Compliance Procedures for Expats in Vietnam
By Mr. Thanh Trung Ta (Tim)
Related New Laws and Regulations Since 2021
By Mr. Vuong Tuan Phong (Paul)
Introduction of VIVA Business Consulting –
By Mr. Thanh Trung Ta (Tim)
Webinar ends.
Bio of Speakers:
Mr. Ta Trung Thanh (Tim): "Tim is a paramount business advisor with immense international experience and education. Completed Associate's degree of Business Administration at Sydney Institute of Business and Technology (SIBT) and Bachelor degree of Commerce at Macquarie University Sydney. He is currently overseeing business development and project management at Viva Business Consulting including company restructuring, M&A, Vietnam market entry services, or general business advisory in Vietnam for local and international clients"
Mr. Vuong Tuan Phong (Paul): "Paul graduated with Law and Business Administration and Lawyer training program. He has been practicing law with expertise in advising Corporate, Banking, Investment, Labor laws… for investors, local and multinational companies in Vietnam. Paul is more powerful in his professional thanks to the integration with in-house expertise teams from VIVA who have consistent backgrounds in Business Laws – Accounting and Corporate Finance – Tax Management – Labor Relations and Payroll – Business administration procedures"