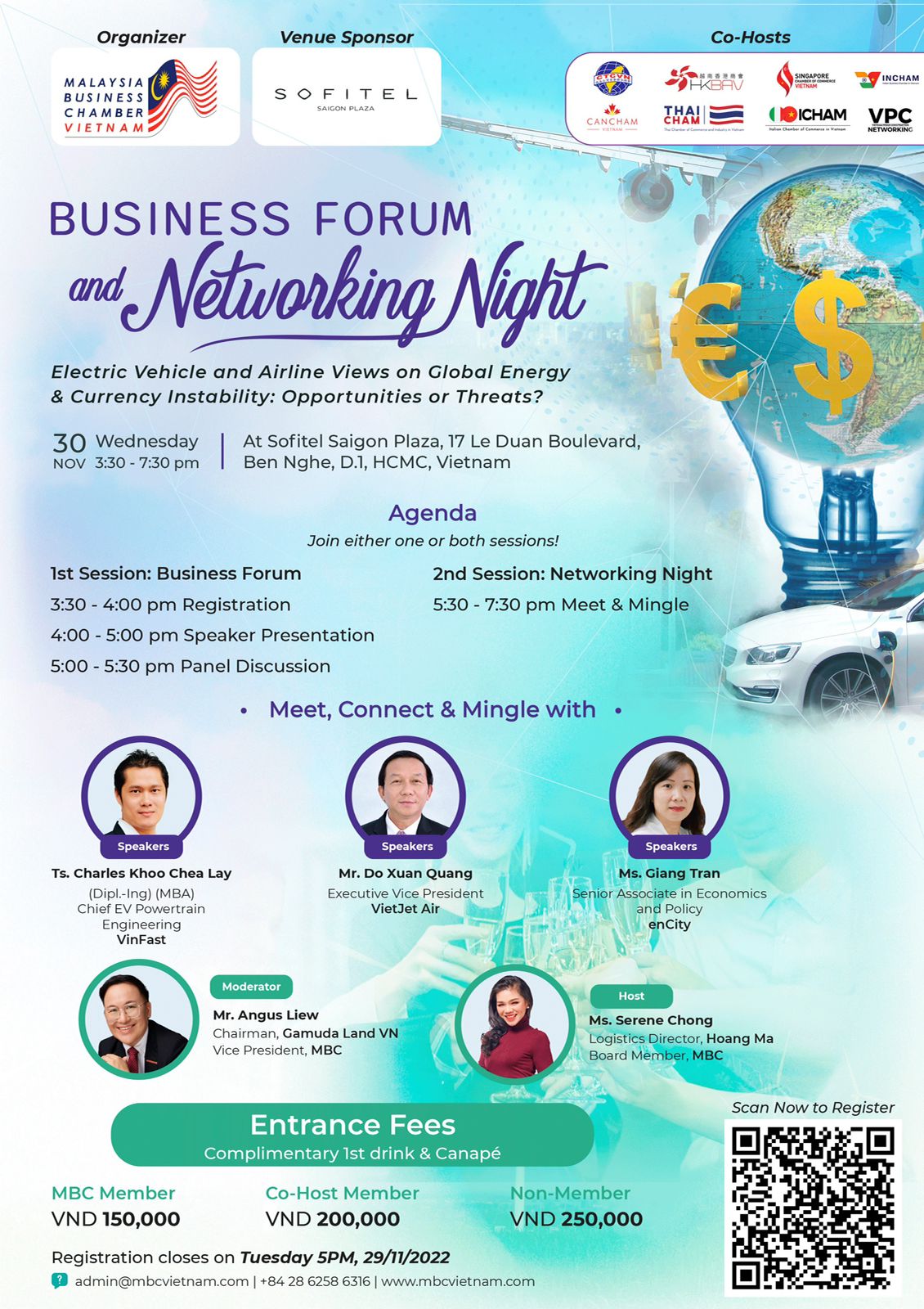 [MBC EVENT] – MBC BUSINESS FORUM AND NETWORKING
Countries crank their interest rates to fight inflation, and the whispers of a reverse currency war are getting louder. In the century of a global squeeze on the energy supply, does it implies the worst of the worldwide energy crisis is ahead of us?
On 30/11/2022, join us to hear the views of leading experts on it and discuss the local energy with currency volatility and its indication to the local production of goods and services, followed by a networking session with the leaders from diverse businesses to exchange your ideas for the 2023 industry outlook.
SPEAKERS:
Ts. Charles Khoo Chea Lay (Dipl.-Ing) (MBA) – Chief EV Powertrain Engineering, VinFast
Mr. Do Xuan Quang – Executive Vice President, VietJet Air
Ms. Giang Tran – Senior Associate in Economic and Policy, enCity (TEDx Speaker)
MODERATOR:
Mr. Angus Liew – Chairman, Gamuda Land VN (Vice President, MBC)
HOST:
Ms. Serene Chong – Logistics Director, Hoang Ma (Board Member, MBC)
EVENT INFO:
Date: 30 November 2022 (Wednesday)
Time: 3:30 pm – 7:30 pm (Vietnam Time)
Venue: Sofitel Saigon Plaza, 17 Le Duan, Ben Nghe, District 1, Ho Chi Minh City
Entrances fee:
– MBC member: VND 150,000
– Co-host member: VND 200,000
– Non-member: VND 250,000
Please contact INCHAM Secretariat: incham@gmail.com or info@incham.vn – Hotline: 0911 418 132 – for any questions.