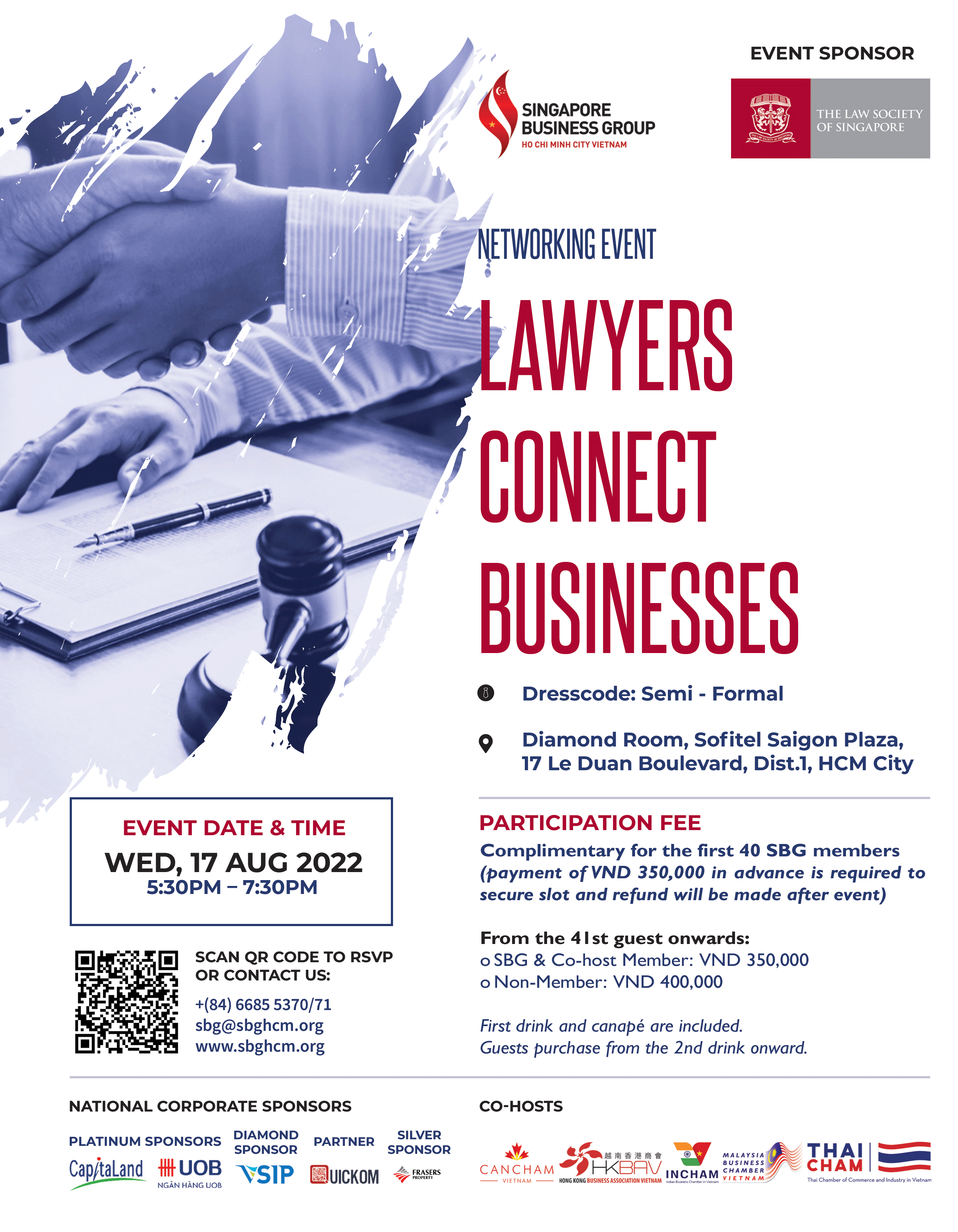 [SBG EVENT] – Networking Event: Lawyers Connect Businesses
The "Networking Event: Lawyers Connect Businesses" is organized by Singapore Business Group and co-hosted by INCHAM with details as following:
Networking Event: Lawyers Connect Businesses
Date: Wednesday, 17th August 2022
Time: 5:30 PM – 7:30PM (registration starts at 5:15 PM)
Location: Sofitel Saigon Plaza
 17 Le Duan Boulevard, District. 1, Ho Chi Minh City
Attire: Semi-formal
Entrance Fee:
Complimentary tickets for the first 40SBG members (*)
From 41st guest onwards:
SBG Member & Co-host Member: VND 350,000
Non-Member: VND 400,000
(*First drink and canapé are included. Guests purchase from the 2nd drink onward.)
Registration link: https://bit.ly/lawsociety2022
(Kindly note that payment in advance is required and refund will be made after the event)
Join us for an exclusive networking session between The Singapore Law Society (based in Singapore) and Singapore Business Group's members, where Singaporean professional lawyers chit-chat and network with local business communities.
This trip to Vietnam is organized under the Lawyers Go Global initiative of the Law Society of Singapore, which is a scheme launched by the Law Society, Ministry of Law and Enterprise Singapore to help Singaporean lawyers and law firms venture overseas.
More information about The Singapore Law Society:
The mission of The Singapore Law Society is to serve its members and the public by sustaining an independent bar which upholds the rule of law and ensures access to justice. As part of its mission in ensuring access to justice for the needy, every Singapore lawyer who has in force a practicing certificate is automatically a member of the Law Society.
Please contact INCHAM Secretariat: incham@gmail.com or info@incham.vn – Hotline: 0911 418 132 – for any questions.