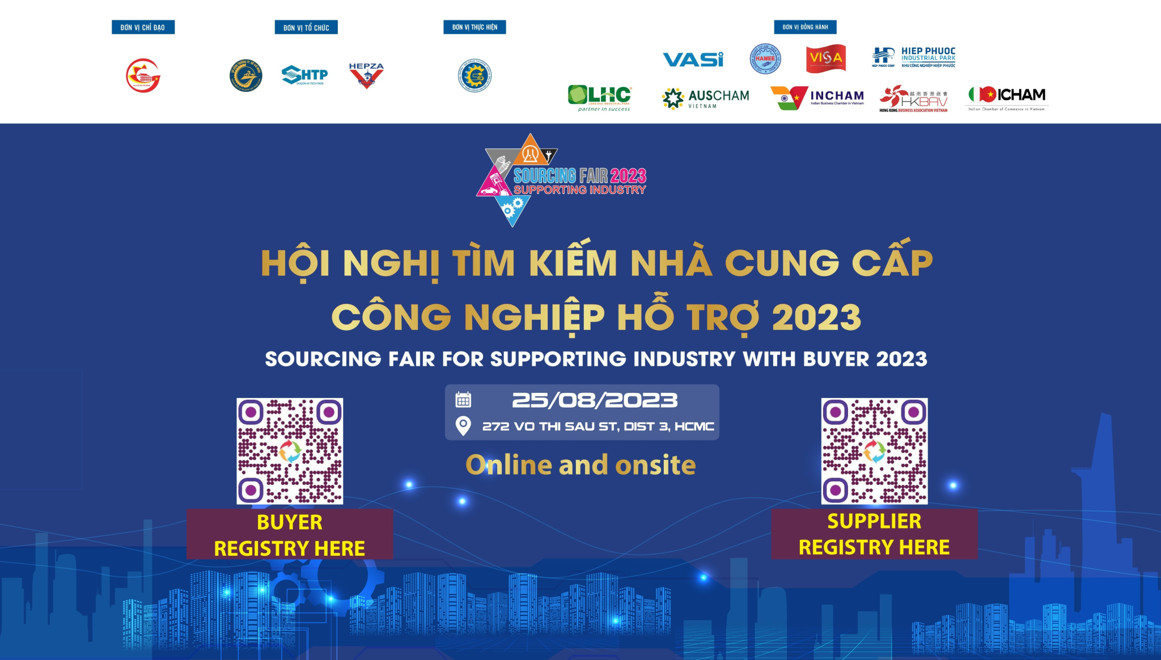 Sourcing Fair of Supporting Industry 2023 – SFS 2023
We would like to share with you about the Sourcing Fair of Supporting Industry 2023 – SFS 2023, organized by Department of Industry and Trade of Ho Chi Minh City in collaboration with the Management Board of Export Processing and Industrial Zones of Ho Chi Minh City (HEPZA) and the Management Board of Ho Chi Minh City High-Tech Park (SHTP).
Event details as follows:
Date: August 24-25, 2023
Times: 8:00 am – 5:00 pm
Venue: Convention Center 272 Vo Thi Sau, District 3, Ho Chi Minh City.
Cost: FREE
Registration Link:
–       Vietnam supporting industrial enterprises quickly register to connect directly with the Buyers who are FDI enterprises/terminal industrial production enterprises according to the link: https://rtlink.me/sfs23-supplier
–       Purchasing enterprises register to participate and provide the Organizing Committee with a detailed list of components to look for suppliers at: https://rtlink.me/sfs23-buyer
In 2023, the Conference was held with the expansion of scale and subjects to further improve the effectiveness of connection activities between Vietnamese supporting industrial production enterprises with FDI enterprises, terminal industrial production enterprises with the accompaniment of Vasi, HAMEE, EuroCham, AusCham. Currently, there are 12 buyers with nearly 200 components categories who need to find suppliers to participate in the program, including big names such as TTI, Fujikura, LG, Samsung, Nidec Tosok, Sharp Vietnam, Mabuchi Motor, etc.
For more information and registration, please contact:
Ho Chi Minh City Support Industry Development Center:
Address: 163 Hai Ba Trung, Vo Thi Sau Ward, District 3, Ho Chi Minh City.
– Mr. Le Thanh Thoong: 0938803179, email: ltthoang.sct@tphcm.gov.vn  
– Mr. Vu Kien Nam: 0349 662994, email: namvkin123@gmail.com
Please contact INCHAM Secretariat: incham@gmail.com or info@incham.vn – Hotline: 0911 418 132 – for any questions.