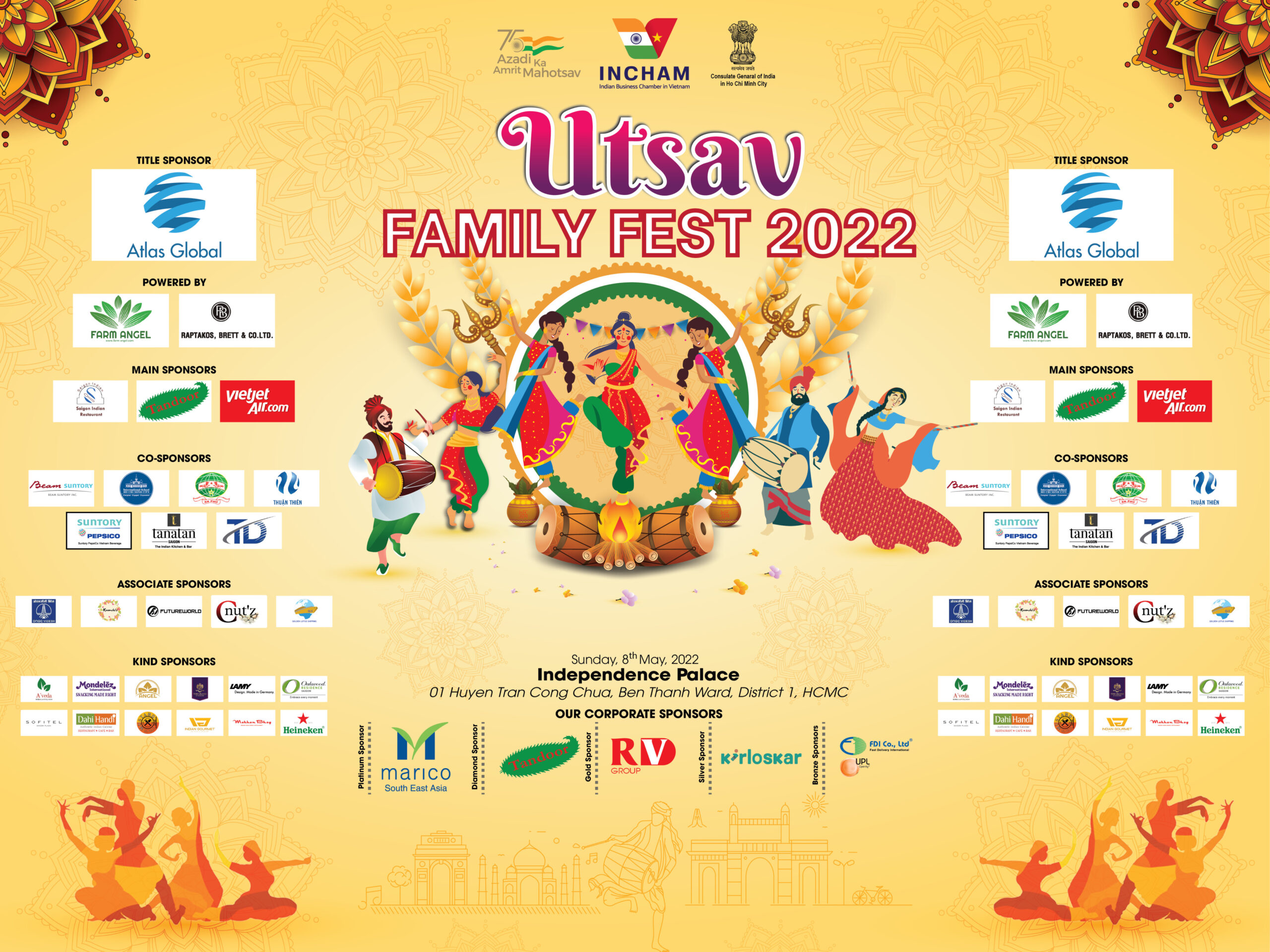 UTSAV – Family Fest 2022
INCHAM would like to announce the celebration of UTSAV – Family Fest 2022 to experience culture & flavors of India in pristine setting of Independence Palace Gardens as per the following details:
Date: Sunday, 8th May, 2022.
Time: 4:00 PM – 9:00 PM
Venue: Independence Palace (Outdoor)
                       01 Huyen Tran Cong Chua, Ben Thanh Ward, District 1, HCMC
This time around in mid of April we celebrate New Year in various parts of India with different names as per region – Baisakhi/Gudi Padwa/ Chetichand/ Ugadi/ Vishu/ Rongali Bihu/ Poila Baishakh/ Navreh & so on. It is also a time when millions from our neighboring countries (Thailand, Myanmar, Cambodia) usher in their New Year based on an agrarian calendar evolved over millennia.
Just to give you the feel as to how it's celebrated all across India, we are pleased to re-introduce UTSAV – Family Fest 2022. It will feature a cultural gala replete with music, dance and entertainment from different states and cultures of India with the underlying theme of UNITY IN DIVERSITY.
Since it's going to be a display of Indian Culture, we would like to invite the people from the Indian community & their family members to come forward and give their proposal for participation to display, as to how they celebrate new year in their respective states.  Please note that all such performances will be group performances (no solo performance) with a maximum duration of 8 mins. All performers should be over 7 years of age.
The entertainment program is accompanied by INDIAN food courts apart from other entertainment stalls & fun activities for kids, which can be availed in exchange of coupons sold with ticket & the additional coupons can be bought onsite.
Further "Stalls" will be available for members/ people in the community to display & sell their traditional food and other items that display Indian culture at a nominal cost. Details to follow soon, so that members can accordingly book the place.
Please note it will be a ticketed event with Limited Tickets (first come first served)
INCHAM Member Adult & Child from 15+: VND 300,000 (including VND 200.000 food & beverage coupon & VND 50.000 Raffle ticket)
Non Member Adult & Child from 15+: VND 400,000 (including VND 200.000 food & beverage coupon & VND 50.000 Raffle ticket)
Invitees, Performers and Children 15 years & below: Free Ticket – without coupons/ raffle tickets
(Coupons can be bought at the venue)
Looking forward to hearing from you regarding, participation in the cultural performance/ booking a stall/ sponsorship or booking your tickets soon!